Design Teams
I have been fortunate to have been a member of a few fantastic design teams. I enjoy the challenges and friendships that come from being part of design teams.
Current
Scrapmatts
is an Australian chipboard company which creates the most amazing pieces. They are very intricate and durable, I have been delighted to work with the products while on the team in 2013 and had been purchasing their products for at least 3 years before winning a spot on the team.
Term: Jan 2013 to date.
Previous
Couture Creations
is another Australian owned company. It specialises in embossing folders, dies, bling and scrapbooking tools.
Term: April 2014 to March 2015.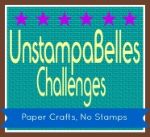 UnstampaBelles
is a monthly papercraft challenge blog which prohibits the use of stamps in their submissions. A new theme is set each month. I really liked the variety of different papercrafts which were submitted here.
Term: July 2012 to December 2013.
The Lollipop Ladies
is a fortnightly challenge blog in which you had to create projects inspire by pictures of sweets.
Terms: September - December 2011; Guest DT May 2012; June - Dec 2012.
Term: April 2015 to July 2015.
Guest Member
June 2015 and June 2016 as part of the Scrapmatts DT.
August 2015.